Pool party anyone?
Glamourina, the hottest fashion and beauty lifestyle blog in our nation's capitalis making a splash with our relaunch pool party Sunday August 12,2012, 1-5pm at the Doubletree Bethesda's rooftop pool! Admission isFREE.99! (Must be on the Guestlist)
"SizzlingSundays capture everything that's remarkable about summer includinggreat food, outdoor entertainment, socializing, and relaxation," says Meaghan McKissic, Bethesda resident and Editor in Chief of Glamourina.com.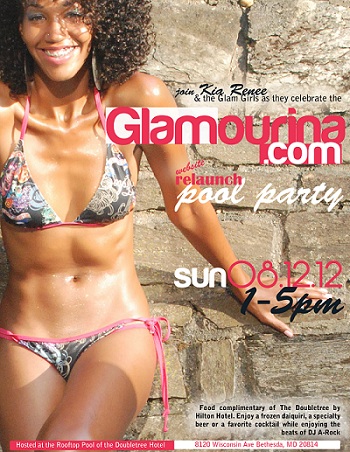 The Doubletree Bethesda is the best place to unwind on the weekend andIt's the ONLY place where you can find DJ Art and the Doubletree'sown Chef Adam making sure you're rocking out to jams with a fullbelly of complimentary signature sliders and more! It provides theperfect backdrop while making lasting connections networkingwith DMV bloggers, writers, and fashionistas!
For those looking to quench their thirst, the libations will be flowing,with special appearances in the past from Corona, Sam Adams, and JackDaniels to name a few. Expert mixologists will also serve up qualitydrinks at the cash bar.
Featuring stunning views of the nation's capital, the Doubletree Bethesda takessun worshiping to a higher level and is the ideal place to perfect atan surrounded by the exciting pulse of the city. Guests can cool offin the sparkling pool, stretch out on one of the premium loungechairs and more. It's like a pool party and shopping trip combinedinto one as jewelry designer Alexis of Razzle Dazzle Jewelry(
http://www.blingisland.com/
) and clothing designer Kevin Lattimore of Furture GenerationClothing (
http://www.futuregenerationclothing.com/
) set up shop to provide you with this season's hottest looks.
Get ready for the best Sizzling Sunday of the summer! RSVPat glamourinalaunchparty.eventbrite.comto get on the guest list!!!!!!
Follow Glamourina on Twitter! @getGlamourina
www.Glamourina.com
www.facebook.com/Glamourina
https://www.facebook.com/doubletreebyhiltonbethesdapool